Raising Body Confident Kids eCourse
online training for parents of toddlers to teens
Welcome to the eCourse that helps free your family from food and body struggles.
Watch your child eat well and treat their body with respect. No more food/exercise power-struggles.
Have body & food conversations that leave everyone feeling good. 
Know your kid's body image is safe from media messages whatever their age.
Start feeling relief today!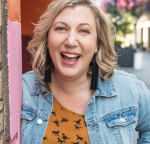 "Emma's course was a life-changer for our family. We learnt so much vital information and practical tips that really gave us the confidence to have those hard conversations and answer those hard questions!! As the mother of three girls, I feel such responsibility to arm them with the tools they need to feel ok in their bodies and navigate this world that has such emphasis on looking a certain way."
Parenting isn't easy, but who knew food and body stuff would be this tricky?
Why is it, that despite trying our best, we can still end up feeling worried, judged and alone as a parent?
Guess what? You don't have to figure it out yourself.
I'm Emma Wright and I've been where you are. I did all the health and wellness 'things' and ended up with kids sneaking food, saying they hated their bodies and mealtime battles. I had my own issues and desperately didn't want them to go down the same track.
When you enroll in the Raising Body Confident Kids eCourse, you have all the latest research and learning at your fingertips. 
NO more anxious conversations!
Get body confidence education all in one place.
enroll now
you'll be shown the ropes
watch your family thrive 
100% online. Self-paced education with life time access
24/7 access
15 videos over four learning modules with in-depth worksheets to make the learning stick
bonus modules
Stop guessing, start following the evidence
Tools and practices based on long term studies, not sciency sounding anecdotes
Know exactly what to say & and how to act, no matter who you're talking with
Updated to keep up with latest research
Make lasting changes in just a few days
Make life-changing shifts (for you and your kids) with the first three videos
Have more connected conversations from the get go
Learn to trust yourself and them and watch your family thrive at home and at school
Lifetime access for $297.
Or monthly access for $20, cancel anytime.
For more pricing info, see the chart below.
Choose an option that best suits your style
DIY
eCourse Only
NZ $297
Lifetime access to eCourse
Email Support
Dip in and out as needed
Coaching Club
Most popular
NZ $20 per mth
Monthly access to eCourse
Daily guided mindfulness walk
Private Facebook group
Cancel anytime
Interviews
Q & A sessions with Emma
Messenger support
ONE:ONE
Coaching package
NZ $345 per mth
2 x 60 min coaching calls
Access to the coaching club
Access to the eCourse
Messenger and email support
Once you're enrolled I'll guide you step by step through getting started and feeling settled in
Want to try a free 15 min class before you join?
Get your kids to stop asking for sweets when out shopping. Stop the begging, whinging, nagging – every time they see the bright, brilliantly marketed sugary stuff. And never hear them ask again. No policing or hard to implement tactics. You'll stop the fights and be calmer to boot! 
That does, of course, ultimately depend on your willingness to do the work, talk with your kids and make changes. What I CAN tell you is that I know others who joined this membership and it's transformed the way their family feels about food and weight.

An important disclaimer – joining this membership group is not a substitute for therapy or medical care. If your child has an eating disorder the training and support is designed to be a supplement to professional help. You should absolutely make getting professional help your #1 priority. 

Yes. Body confidence affects boys just as much as it affects girls. Boys get eating disorders, body dysmorphia and live in the same weight-obsessed society that girls do. The education you get in this membership is not gender-specific. 

Firstly, I get it! And you're not alone – 80% of women have an 'I hate my body moment' EVERY SINGLE DAY. The education in this membership will help you find access to peace and freedom yourself. The daily guided walks are designed for YOU to build your body-confidence. 

The first two videos are the longest at 15 mins and 30 mins respectively – they set the scene. All the other videos are under 10 mins with an emphasis on taking action.

The education is designed so that you can comfortably finish in 8 weeks, doing two lessons a week. That said, you can go through and watch the entire training in a couple of days. You can access to the training as long as you are a member of the Body Confidence Coaching Club. Go hard or take your time. It's up to you. 

You need your computer or phone, a pen, and access to a printer. I also suggest earphones – they make joining the daily walks a lot more comfortable.  

Absolutely – I highly recommend doing the education with other parents and caregivers of your children. 

I've never been asked for a refund, but I do get a lot of the other R word… referrals.
In all seriousness though, I have a 30 day no questions asked money-back guarantee. There really is nothing to lose. 

If you have kids from 1 to 18, you're in the right place. 

You have access as long as you are a member of the club.
What does the online education cover?
Module One: Reject Diet-Mentality Myths
Learn the three distinct areas that lead to body confidence and how to spot health and wellbeing myths that can cause damage.
Module Three: Marketing & Media
Declutter your environment from negative messages
Spot body-shaming stereotypes
Understand digital trickery
Spot bad science used to market health and wellbeing
Module Two: Language & Conversations
The one simple practice that makes a massive difference
Master awkward conversations about weight, fat and bodies
Practicing gratitude in ways you haven't thought of
Terms to avoid and terms to use when talking about bodies
Module Four: Food & exercise
Body Confidence Coaching Club
I'm a kiwi mum of two, who knows how much better life is without fighting my body and worrying about my kids. Let's walk this incredible journey together!