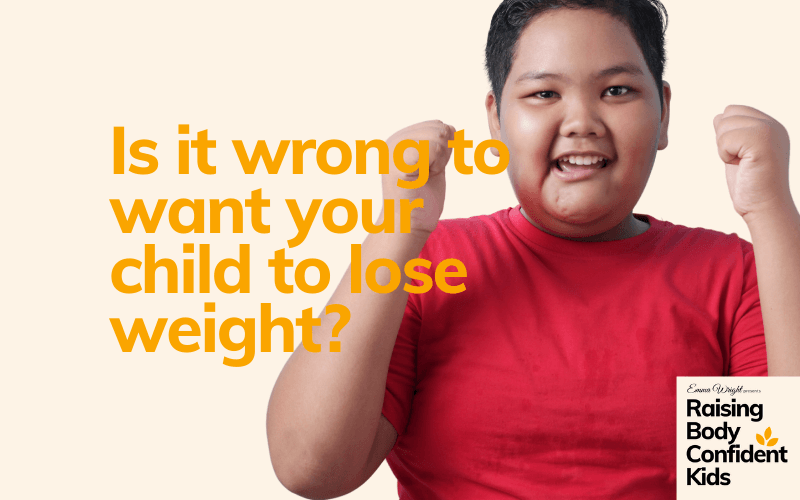 The short answer is no. It's not wrong. 
But it is ill-fated. 
It's not surprising we might secretly want our child to lose weight, because the world is easier for those on the smaller end of the size scale. 
Being bigger means your child will face discrimination (bigger people get paid less, get less job opportunities, get taken less seriously by drs and other professionals, can be assumed lazy or mean or stupid even if they are none of those things).
It's natural for us to want to shield our child from experiences that could hurt. 
But it's ill-fated because while it's not wrong to want them to lose weight,
…weight loss is unobtainable for less that 5% of people who attempt it, 
…and comes with substantial, potentially life threatening, side effects (including eating disorders, shame, weight gain over and above set point weight, self loathing, sense of failure, feeling disconnected and depression). 
It's also asking our child to be complicit in their own oppression. 
So while it's not wrong for a parent to want to protect their child from the suffering caused by our culture for those who live in bigger bodies,
…perhaps it's time to think of our culture as wrong (rather than the bodies we are born with), and decide to ask the culture to change instead of asking our children to attempt to change themselves to fit in. 
If you'd like to help change our culture (and help your child feel good about their body in an oppressive system) I hope you check out the Raising Body Confident Kids online course.
It's the only parenting course (that I know of) that addresses the injustice done to bigger bodied people, as part of raising a confident, self believing, resilient child – and teaches practical tools to help you and your child navigate it. 
In the course you'll learn…
– parenting tools to have hard conversations (so your child will listen).
– tools to help your child boost their sense of belonging and significance, regardless of what they look like
– tools to help your child self manage what they see online (and the time they spend on screens) so their body image doesn't get destroyed
– tools to help your child take part in household chores without fight or fuss so they can learn the power of contribution
– tools to help your child eat competently, without fear of what food will do to their body
You can find out more here. 


Emma x
PS. For a deeper dive into the science behind why teaching kids to trust their unique bodies works out better for them in the long run, check out this 25 min podcast interview with Evelyn Tribole.
Like what you've just read? Sign up below for the free 10 Principles of Raising Body Confident Kids PDF, plus weekly-ish coaching emails.