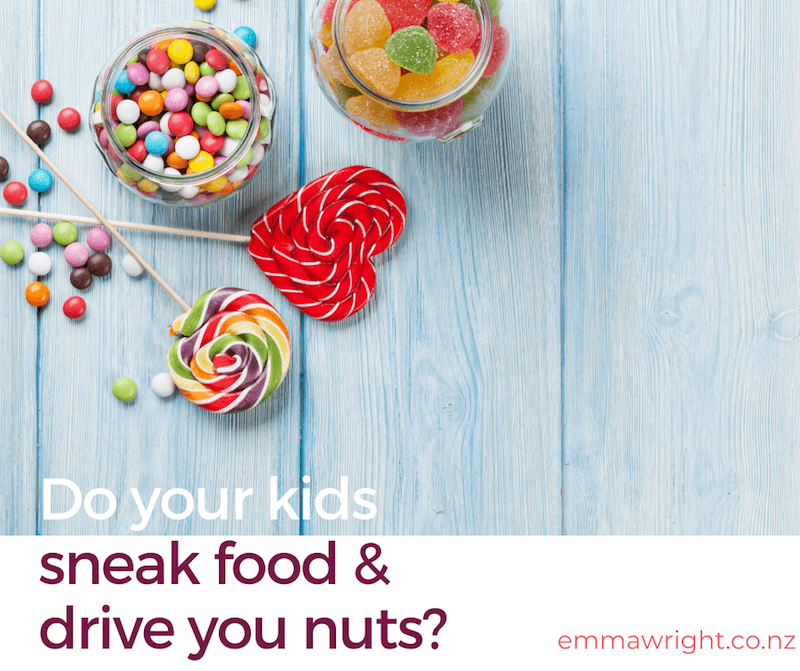 The only time children feel the need to "sneak food behind our back"…
is when they live in an environment of restriction, 
and the restrictions we set are almost always driven from,
….wanting our kids to stay at a 'healthy weight' and avoid weight & food related diseases…
…plus
… how judged we feel by society as a parent (are we good enough).
"If I limit sugar and get them to eat loads of veggies, they will be healthy and well and everyone will know I'm doing a great job. But getting them to obey what I say is like getting an octopus into jar"
Close to home?
…and I'm guessing that when you go into the place of "getting your kids to eat healthy,"
And they go and "eat everything in sight at a birthday party"
It drives you nuts. Like I'm-a-bit-shit-at-this-parenting lark and feel like a loser. 
Not fun, and so avoidable. 
If you want your kids to be healthy and happy AND eat the same way if you're in the room or not, 
Ask yourself,
what "restrictions" am I putting in place to try and make sure they don't put on too much weight?
Where am I judging my performance as a parent through the food my kids eat? 
Where did I decide that "I'm not okay – and the way my kids are behaving is not okay?"
AND FIND A BETTER WAY TO ADDRESS HOW THEY EAT.
Because as long as there's restriction around what you're kids eat, they will sneak and hide and fight you, 
And…
feeling like you need to sneak and hide doesn't lead to feeling good about your body or positive health outcomes. 
You see,
"Getting them to follow the restrictions" is not the problem. The restriction is the problem.
Like this post? Sign up below for the free Happy, Healthy Body Image TOOKIT and weeklish ideas on how to raise body confident kids.
Grab the FREE body Image TOOLKIT for parents of toddlers to teens & start raising body confident kids today...
You'll also get weeklyish body-confidence coaching emails (you can unsubscribe anytime & I'll never sell your details!!) ...