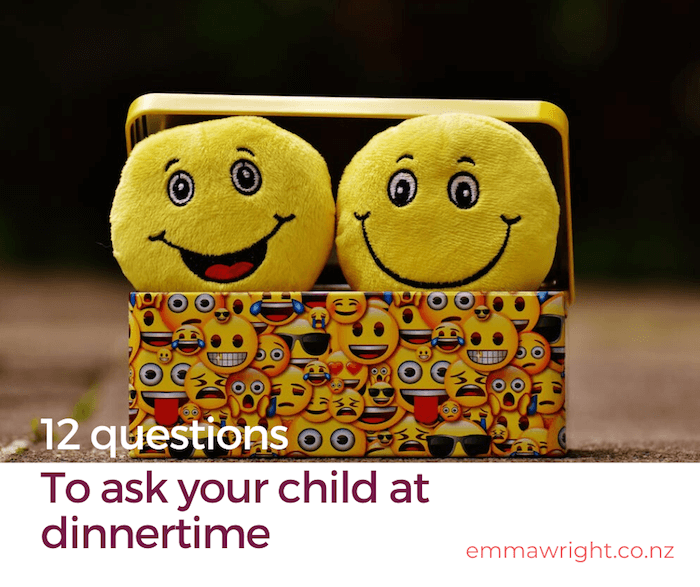 If you're anything like me, you'll have seen many an expert encouraging us to sit down to a family meal on a regular basis. It's good, we're told, in all sorts of ways. One particular report, for example, in the journal Pediatrics recently pointed out that routine family meals can even result in adolescents eating more fruits and veggies, and decrease the risk of developing eating disorders. That's worth sitting up and taking notice of, yes?
The kicker is, the benefits won't show themselves if we don't actually connect with each other, once we're settled in at the table. In other words, for a family meal to actually be beneficial we must engage — and be intelligent about what we discuss. Us pretty smart parents could've probably figured that out for ourselves. Still. Sometimes the bleeding obvious needs a nudge to the foreground in order to be remembered and acted on.
When I discovered (embarrassing but true) that I wasn't always engaging as fully as I'd like too, I realized I needed to practice. And the easiest way to practice was to have a go-to list that I could call upon. So I wrote myself that list and I've found it more useful than I imagined. So I'm sharing it here with you in the interest that you remember to engage and connect, as well.
The following are my top favs — please steal and use to your heart's content. It's a list that I'm confident once you get into the swing of, you'll add to with your own pearlers.
1. What did you do today that was successful?
A great one for getting kids to think about what they achieved in a day. We have a boy who errs on the side of pessimism with a dedicated focus. Asking about his successes are a great inroad for him to notice that he is not, in fact, shite at everything. It's been a bit of a winner.
2. What did you talk about in class today?
Get into their world. It's actually interesting what you learn when you ask this question. My eyebrows have raised more than once.
3. What happened today that made you laugh?
A great way to get the giggles going at the table. Sometimes I want to groan when I hear what made them laugh, but at least I get where their humor is coming from.
4. How is your tummy feeling? Full? Empty? Somewhere in-between?
A fantastic way for everyone to take a moment to notice their body and how satisfied they are at the moment you ask. It pays to park any assumption about how they might feel due to how much you've seen them eating. The more you ask with curiosity, the more comfortable they'll be to tune in and feel what's going on. If you're inclined toward mindfulness practices and the like, this is a pretty sweet little mindfulness practice you can slip in at the dinner table without having to call it a mindfulness practice. That gets a big tick in my book.
5. How is everyone in your class doing?
Ask as if you do actually care. Otherwise, move onto another question. It's pretty cool to see how much they are picking up about people around them (or not).
6. What do you want to do this weekend?
You can see why this is a good question, right?
7. Can I tell you about this funny thing that happened to me today?
Kids, in general, are narcissistic and don't really care what's happening in your world. But that doesn't mean you can't help them to break out of themselves and think about others. Couching even ordinary things that happen to you in terms of 'crazy', 'funny' or 'mad' can help them shift their attention and listen.
8. What did you do today that was tricky?
This is one of my fav questions because it's not about achievement or success. It shows you are interested in them taking risks and are fine with them making mistakes. You are fine with that, aren't you? If not, you and I have a fundamental difference in our values. But back to the point. It's a great question to ask to understand from their perspective what they find hard and what comes easy. Nice.
9. Have you got any questions about what you've seen on YouTube lately?
This one's a doozy. They pick up all sorts of stuff, as you know, that they don't always understand but won't think to ask. Until you ask them. My son asked me what a 'plonker' was the other day. Priceless.
10. What parts of your body worked well today?
We have so much focus in our culture on what is wrong and what needs fixing in terms of our bodies, it's easy to forget they are incredible machines and most of the time most of that machine is working just fine. Helping your child hold onto that while they are a child and not losing it to the whole — your body is wrong bizo? I'll leave you to answer that for yourself. Okay?
11. What's one thing you can be grateful for today?
Oh yes, this list wouldn't be complete without some gratitude. Do it. You know it's good.
12. Who did you sit with at lunch today?
Because eating is social and is delightful when accompanied by conversation, there is something very cool about knowing who your child is eating with.
There you have it. Twelve questions to bring to the table.
The reason I get out of bed in the morning is to help parents raise body confident kids.
Like this post? Sign up below for the free Happy, Healthy Body Image TOOKIT and weeklish ideas on how to raise body confident kids.
Grab the FREE body Image TOOLKIT for parents of toddlers to teens & start raising body confident kids today...
You'll also get weeklyish body-confidence coaching emails (you can unsubscribe anytime & I'll never sell your details!!) ...