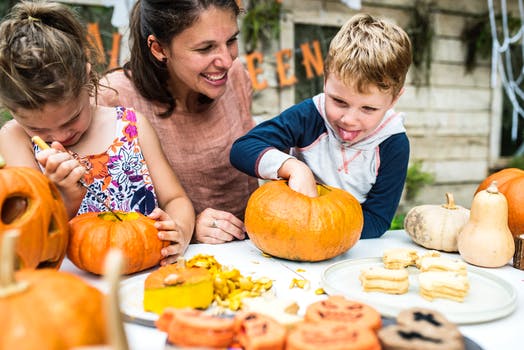 Ask just about any parent and they'll tell you they don't want their kid to be an 'emotional' eater.
But maybe emotional eating isn't quite the problem parents are worried about.
To start, let's think about why we think it's a problem and then see if we can look at it from a slightly different view point, hopefully shifting the fear we might have. 
When we hear the term 'emotional eating', generally, what's being referred to is one small aspect of emotional eating – binge eating. 
Human beings, if you think about it, are supposed to eat emotionally. We take pleasure in food. We enjoy shared meals that connect us with friends and family. We feel satisfied when we eat. All of which, are emotional states. 
Eating can also soothe our feelings. You've probably seen the relief on a child's face when a lollipop is offered at the drs office. It helps with pain and anxiety. In a good way.  
On the other hand, when emotional eating becomes binge eating, it feels unpleasant, guilty, shameful and out of control. Then, to squash the negative emotions arising from the unpleasant eating, we keep eating. You can see the vicious cycle here, right?
We don't want our children to become binge eaters who feel shame and guilt about what they eat. But we do want them to get pleasure out of food, enjoy the emotional connection that communal eating provides and indulge in the pleasures that come with celebratory feasts without overthinking or obsessing. 
Said another way…I don't think we need to fear our kids enjoying food or even 'using' food to quell in-the-moment anxiety or fear, like the lollipop example. 
What we don't want is for them to quell a fear or anxiety, then feel guilty they have, be driven to eat more to deal with the shame and get themselves into a viscous, unpleasant and mentally debilitating relationship with food. 
So how can we nurture positive emotional eating while ensuring binge eating or shameful eating doesn't set in?
First of all we need to understand that kids eat for three different reasons. 
When kids eat they are satisfying three needs. I write about this more extensively here and speak about it in this short audio here.  If we only consider nutritional needs (without considering emotional or agency needs) we can feel stressed about what a kid eats and inadvertently nurture binge eating, when all we are trying to do is care for their health. 
Once we know that a kid will sometimes eat to satisfy their agency and emotional needs, our focus on nutrition can be done gently and feels straightforward (rather than frustrating and confusing).
We can also – and this is so important – help our child find ways to be vulnerable, deal with pain, failure, anxiety and other hard emotions without needing to escape from them, or feel completely overwhelmed. In other words, we can help our kids be emotionally competent and not rely on external sources (eating, drinking, drugs, status building) to distract them from the inevitable emotions that accompany ups and downs of life. 
The last point I want to raise – which is crucial to table in this discussion – is this…
If our child is within a so called 'healthy weight' would we be as concerned about 'emotional eating' as we would if they are bigger? 
In my experience, parents (plus professionals and society in general) are way more concerned about bigger kids eating for emotional reasons than slimmer kids.
Which means we are, at least in some part, worried about emotional eating because of the (false) belief that it causes fatness. And we unquestionably assume that fatness in a child is bad (and being slimmer is categorically superior) and therefor needs fixing. This idea has far more to do with cultural narratives that idealise thinness than actual data we have on health and weight (this article is worth reading too). 
Humans of all sizes and shapes are designed to enjoy the pleasures of eating. The very best way we can raise a child to eat in a healthy emotional way, and not stray into guilty or shameful eating, is to do the very hard work of taking our focus off their size. 
There are many larger sized people who have a healthy emotional relationship with food, who allow themselves to self soothe using food (and have internal ways to be with discomfort and vulnerability over and above in-the-moment external distraction), who delight in celebrations and feasts and stay the same weight year in year out.
There are many slim people who overthink food, are obsessed with it, binge eat, fear food (and don't know how to be with painful emotional states other than distracting themselves from them) and who's weight fluctuates up and down. Weight cycling has been shown to be less healthy than remaining a consistent weight regardless of the size of the individual. 
If you're already enrolled in the Raising Body Confident Kids parenting course, you can hop over to Module 1 to reacquaint yourself with the tools to set your child up to deal with emotions powerfully and take the 'problem' out of emotional eating.
If you're not enrolled but like the sound of it, you can find out more here.
It's a pleasure and a privilege to support you on your parenting for body confidence journey.


Emma x
Like what you've just read? Get the free Raising Body Confident Kids 3 part audio training (5 mins each), plus weekly-ish coaching emails.