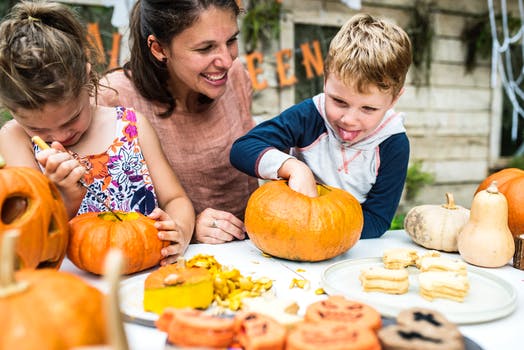 Ask just about anyone these days, and they'll tell you emotional eating is 'a problem'.
Tones get hushed. Voices drop. Sadness and frustration etch the face. I'm an 'emotional eater' the owner of these faces might confess — like they've been afflicted by a curse.
That might even be you.
'Emotional eating' is a term coined by 'diet culture' to explain why people can't adhere to the eating guidelines laid out in one of today's many 'lifestyle' programs or wellness regimes.
It's underpinned by the idea that if your body isn't one of those 'ideal' ones, it'll be some shade of 'wrong'. And the wrongness of your body is why you can't do what you're supposed to be doing.
And it kind of makes sense, when you don't think about it too much. It kinda feels like a relief, almost. It gives you something to hang onto that explains all the madness.
It's funny how the problem is never the program or regime itself. I'll leave you to ponder that. And then say this…
…maybe 'emotional eating' isn't as bad as diet-culture would have you believe. And, I'll dare to go out on a limb here, maybe it's actually a good thing. Maybe there's a payout, a valuable one, that you're simply not seeing. And maybe the payout's available to your kid too.
Before you write me off as a complete lunatic, let's look at the picture from a slightly different angle and see if we can't transform what you see. Because that might change everything. In a good way. For you and your kid.
If you dig around a bit, you'll see that emotional eating embodies two perspectives over and above the 'it's a problem' one.
ONE: Emotional eating is a healthy self-soothing response. You feel tense, frightened, anxious and eating something helps relieve those feelings quickly, powerfully, and in a way that's a lot less destructive than a whole bunch of alternatives.
TWO: Emotional eating is a powerful form of human connection. Think- sitting around a table, with friends, loved ones and delighting in the food together. This experience — has many lasting long-term health benefits.
Let's go a bit deeper, starting with the former. In our busy, hyper full-on world, there are many, many benign things we can turn to that will help us self sooth. Taking a bath. Flicking through social media. Netflix. A coffee and chinwag with a friend. Going for a run. A yoga class. The list is long.
And I'll preface what I'm about to say by agreeing — if you never learn to deal with the root cause of big emotions, you could get into some serious trouble even with those benign options, but we're not talking about that. We're talking about 'taking the edge' off your day. Or simply tiding yourself over until you have the time and space to really get behind something that's bugging you.
When you think about it, getting a few quick, fast calories in the system can do wonders to calm the farm in a relatively harmless way. They're easy to grab (a bath isn't exactly easy to take when a work colleague has just thrown a curve ball at you), relatively inexpensive (pack of chip, an hours massage — you do the math) and works really fast.
And then, let's look at some of the very destructive things we could do to self-soothe instead of eat.
Cocaine.
Smoke.
Any hard drug you care to name.
Drink, potentially to oblivion.
Have unprotected sex with someone you've just meet and don't know their history.
Put in that light, that food you just ate, might have saved your life. I'm not trying being dramatic here. I do literally mean, eating for comfort, for quelling emotions, might have kept you from harm, in a way that some of the other self-soothing practices wouldn't have.
Which begs the question, wouldn't you rather your child found a moment's calm in a muffin than a quick shag with a stranger? Or take up smoking?
On that note, let's move on to number two; emotional eating and social connection.
Human beings from as far back as we can tell have found social connection in food. Eating together is a way to gather, talk, swap ideas, tell jokes, celebrate, party, and pass on crucial information. In other words, we enjoy it. It makes us feel good. Notice how those are emotions?
It's one of the reasons restaurants are such an important part of our social fabric. We go, not for the nutrient content of the dishes (even if that is what the restaurant claims to provide) but for the powerful emotion stirred in us by the connection we feel.
It's the feelings that make sitting down and enjoying a meal together so darn positive for us and our kids. So positive, in fact, that some paediatric dieticians will argue that eating a meal together in harmony, will do far more for your kids' health than the nutrient content of the meal being shared.
In other words, we're all emotional eaters. You, me, our kids. The problem is calling it a problem.
The last, pretty cool, point I'd be remiss in not telling you is this: The moment you stop calling emotional eating a problem, and see it as an amazing tool in your self-sooth arsenal, the amount of food you need to get the soothing done dramatically decreases. That's because your body isn't having to scream past a million layers of guilt and shame and fear to allow the food to do its job.
Like this post? Sign up below for the free Happy, Healthy Body Image TOOKIT and weeklish ideas on how to raise body confident kids.
Grab the FREE body Image TOOLKIT for parents of toddlers to teens & start raising body confident kids today...
You'll also get weeklyish body-confidence coaching emails (you can unsubscribe anytime & I'll never sell your details!!) ...